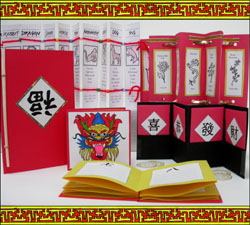 Celebrate Chinese New Year with five creative bookmaking projects. Reproducible patterns and clear directions make these books quick and easy.
Zodiac Slat Book
Based on the earliest book form in China, the Zodiac Slat Book has reproducible patterns with pictures of the animals, characteristics, and dates.
New Year Journal
A quick and easy journal bound with a chopstick and an elastic. The front cover has the Chinese word for luck.
Dragon Counting Book
Count from one to twelve with Chinese numbers. Includes dragon head and tail patterns for the front and back covers and Chinese numbers for the pages.
Book of Good Luck Symbols
Bring luck for the coming year with this book of symbols. Ribbon and beads make this accordion book special.
Lucky Red Envelope Book
Make an accordion pocket book to hold four red envelopes. Includes characters to spell out Gung Hay Fat Choy and patterns of old Chinese coins to decorate.
Click on the image for more information