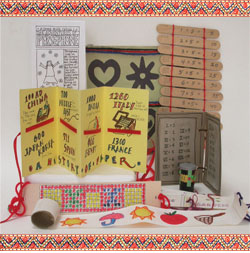 Take a cultural journey around the world with sixteen bookmaking projects that work across the curriculum. This book makes it easy with accessible materials, hints for preparation, clear directions, and historical information.
AFRICA
Name Scroll
Learn about the development of the alphabet from Egyptian hieroglyphics with this simple scroll that uses pictures to write out a name.
Zulu Beadwork
Make a necklace or pendant with graph paper and learn about the symbolic language of beads in South Africa.
Wish Scroll from Ethiopia
Recycle a film container to make a wish scroll based on talismans made in Ethiopia for personal protection and cures.
Adinkra Cloth
Create a construction paper cloth for a historical person or book character based on adinkra cloths from Ghana.
THE AMERICAS
Winter Count
Dakota Indians counted the years by winters and marked each winter with an image drawn on a buffalo skin. Use a brown grocery bag to make your own.
Time Line Accordion
Make an accordion book with a ribbon threaded through to act as a time line and learn about the books made by the Aztecs and Mayans.
Comic Book
Write and illustrate a comic book in this simple eight page book made from one piece of paper.
Curandero Book
This project is inspired by accordion books made by Otomi Indian healers in Mexico. Illustrate your book with cut-outs made from pieces of brown bags.
ASIA
Palm Leaf Sequence Book
In India, Indonesia, and Southeast Asia, traditional books are made from palm leaves. Make your own palm leaf book from stiff paper.
Math Slat Book
Learn multiplication facts by making a slat book which was the first book form made in ancient China.
Seasons Accordion Book
Celebrate the seasons with this four page accordion book with a ribbon tie.
Book of Haiku
Sew a book with a side-stitched Asian binding and fill it with haiku and simple cut paper illustrations.
EUROPE
Rune Stone
The Vikings erected rune stones as memorials to the dead or announcements of the accomplishments of the living. Use the rune alphabet provided to make a stone for a family member, friend, historical figure, or fictional character.
Pugillares
Romans wrote notes in wooden books with wax covered pages. Make your own version with card stock and wax paper.
Newsbook
Write about a specific event in history or current events in a book modeled after the Newsbooks of Europe which were the forerunners of newspapers.
Medieval Book
Make a Medieval Book of Hours or Word Book with decorated foil covers and illuminated initials.
Click on the image for more information