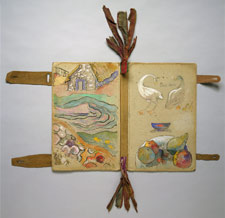 The Metropolitan Museum of Art has an online series called
Connections
and one of the topics is
Books
. You can view a slide show with commentary by Kevin Soehner, the Chief Librarian at the MET. You can also view the slides In Time (placed on a timeline), In the World (placed on a map), and In the Museum (where to find them in the museum as well as a link to the
Heilbrunn Timeline of Art History
which has more information about the images).
The above image is Paul Gauguin's sketchbook from 1894 which is described in the Timeline:
After returning to paint in the Breton village of Pont-Aven in summer 1894, Gauguin suddenly found his activity restricted by a fractured leg suffered in a brawl. Thus, instead of standing before an easel, he was forced to spend much of his time seated, creating works on paper, which he must have placed in this hand-made portfolio. He decorated the inside with motifs inspired by his picturesque surrounds and penned a mock-heroic dedication to the local innkeeper on the leather cover, perhaps marking the grand finale to a drunken evening spent with artist cronies whose names are included in the inscriptions. One of Gauguin's most appealing excursions into the decorative arts, this extraordinary work remained virtually unknown until its sale at a Paris auction in 2000.

Connections/Books at the Metropolitan Museum of Art