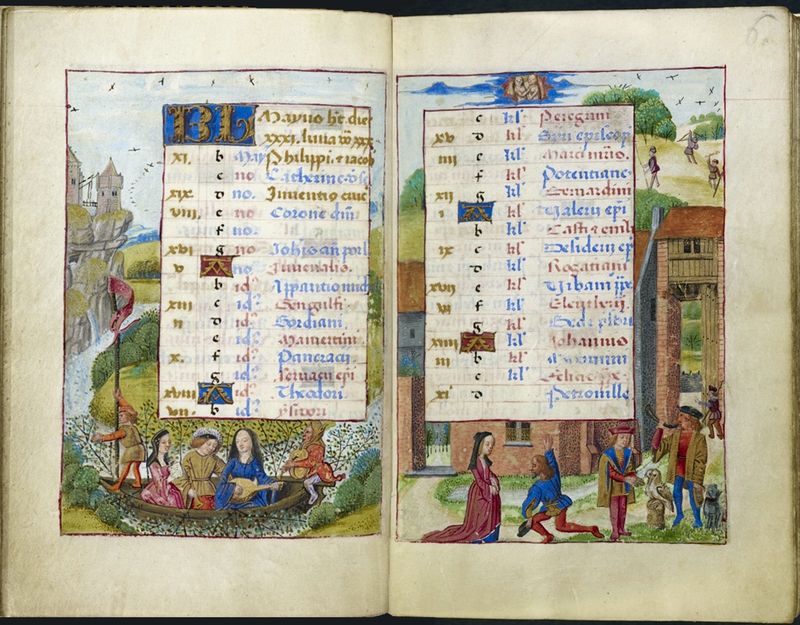 The British Library has a
great blog about medieval and earlier manuscripts
. Today's post is about calendar pages for May from the Hours of Joanna of Castile, made in Bruges between 1496 and 1506.
"Courting and hunting are the themes for the month of May, in this calendar and many others. On the left-hand folio is a miniature of a gentleman and two ladies on a pleasure trip. They carry musical instruments, and their boat is piloted by two figures that bear a strong resemblance to grotesques. On the facing folio, beneath the two nude figures of Gemini, is another scene of courting, with a gentleman kneeling before his lady. This lady bears a strong resemblance to the woman on horseback in the April miniature, but in the intervening month she has apparently found a new admirer. At the far right are two men, with hounds and birds of prey, presumably about to join the hunting party that can be seen in the fields above."
Do take a look at the top navigation bar with links to Royal manuscripts, Digitized manuscripts, and Illuminated manuscripts. A wealth of treasures await.